Win a 2023 Polaris Ranger 570 EFI SP UTV!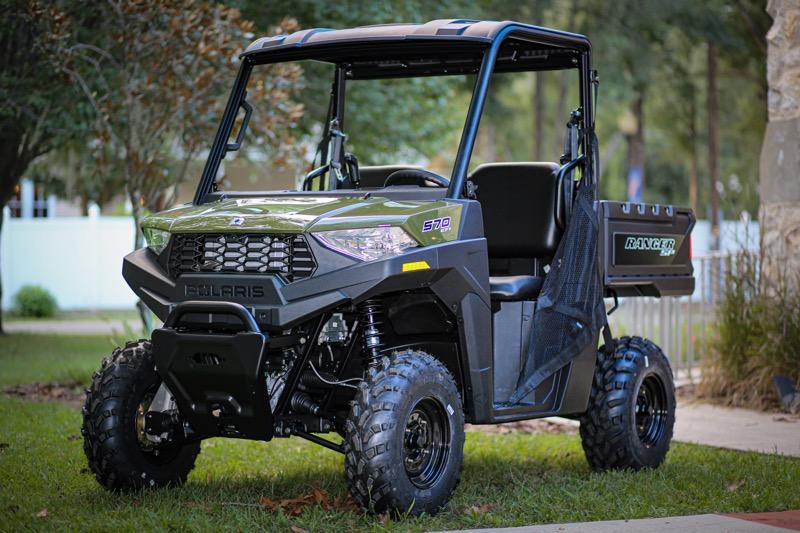 🔸 Prize: Win a 2023 Polaris Ranger SP 570 EFI UTV – or redeem prize value for any product at Polaris of Gainesville of equal or higher value.
Specs Highlights:
🔧 44hp ProStar Engine
🔗 1,500 lb towing capacity
🛒 500 lb gas assist dump bed
📏 11″ ground clearance
🛡️ Mudguards
🔄 On-demand AWD/ 2WD/ turf mode
🔝 Poly roof
🔸 Tickets:
Single: $40.00
Bundle: 3 for $100.00
By entering our raffle, not only do you stand a chance to ride home in style, but you will also be contributing to the commendable efforts of the Alachua Woman's Club. Every ticket purchase furthers our mission of uplifting the youth and sustaining our multifaceted community service projects.
Boost your odds with our bundle deal. Will you be the lucky one to zoom off in the Polaris Ranger SP 570 EFI UTV? Grab your ticket, back a great cause, and find out. See you there! 🎉
Raffle Rules
The winner need not be present to win.
The winner will be chosen by a random selection.
The winner is responsible for all applicable taxes.
The winner needs to pick up the UTV from Polaris of Gainesville in Alachua.
The prize is offered "as is" at the time of drawing.
No Limit on ticket entries.
The Raffle and drawing are being conducted by GfWC Alachua Woman's Club (a Non-Profit Under section 501(c)(3) ) whose principal place of business is 14565 Main Street, Alachua, FL 32615.
Participants must be at least 18 years old and residents of the United States of America.
Winners will be contacted via phone and or email address provided at the time of registration within 10 days of drawing.
The prize is offered "as is" at the time of drawing.
Any Personal and contact information provided while contacting will be confidential.
Your participation in the Charity Ball of St. Nicholas 2023 Polaris Ranger SP 570 EFI UTV Raffle helps the Alachua Woman's Club "Community Service Projects" where you will be contributing to our mission of supporting youth in the City of Alachua as well as many community outreaches we are a part of: (Dinners for our Local First Responders, Period Packs for Elementary School Girls, Josh's Place, Community Mental Health & Wellness programs and continuous support to our local schools from Elementary to High School clubs/PTA's/library/sports programs and so much more.
Disclaimer
This promotion is in no way sponsored, endorsed, administered by, or associated with, Facebook, Instagram, Snapchat, Twitter, or Google. You understand that you are providing your information to GFWC Alachua Woman's Club and not to Facebook, Instagram, Snapchat, Twitter, or Google. By participating in this promotion you agree to a complete release of Facebook, Instagram, Snapchat, Twitter, or Google from any claims. Pursuant to the laws of Florida, no purchase or contribution is necessary to enter the Raffle drawing. A ticket may be obtained by mailing a request for free raffle ticket (one letter PER raffle) with a self-addressed, stamped envelope and notating the specific raffle ticket selection to GWFC Alachu'as Woman's Club, ATTN: Raffle Ticket Request, PO Box 374, Alachua, FL 32616. The ticket will be mailed to you for completion. Tickets MUST be returned, ONE per envelope, to the same address to qualify for the selected raffle. The prize for this raffle is a basic 2023 Polaris Ranger SP 570 EFI UTV with a poly roof included. Should the winner wish to upgrade the model, add packages, or opt for additional features, these upgrades can be coordinated directly with the dealer. Any and all additional expenses or fees related to upgrades or modifications will be the sole responsibility of the winner. The organizers of this raffle will not cover or subsidize any costs beyond the basic 2023 Polaris Ranger SP 570 EFI UTV model that is being offered as the prize.